Enter the Lions – the Millwall preview
Ah, football, how I've missed ye. It might only be the Championship and not the grandeur that is the Europa League, but there is a job to do this weekend for Blues against the Lions of Millwall. And I'm not referring to any episodes of handbags by "pwopa nawty" types in Digbeth.
It seems like forever since we snatched a draw out of the jaws of victory at Watford, but the enforced absence of football has done the team some good. It's given time for tired bodies to recharge, for injuries to heal and for a couple of new signings to be made. Looking at the squad for Sunday actually makes me almost tumescent with excitement. Last season we handed Millwall a 4-1 kicking in the cup at the Den, and I suspect if we play to our potential tomorrow we could do the same again.
Blues are only missing four players on Sunday – Nikola Zigic, who's about a week away from being match-ready; Enric Valles and Keith Fahey who are out for a couple to three weeks for a foot and groin injury respectively and long term absentee Jordon Mutch who's got about 10 more weeks out with his broken ankle. Marlon King, Guirane N'Daw, Wade Elliott and Pablo Ibanez are all available to make their bows for Blues, and it's a happy selection headache for Chris Hughton. I think he'll be thinking about the visit of Braga on Thursday and how he'll need to rotate his squad for that, and thus I'm going with: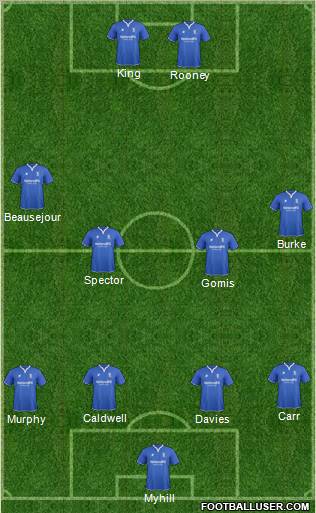 I think that with a fully fit squad Chris Hughton will go with a 4-4-2 formation, with Spector and Gomis breaking things up in the middle and Beausejour and Burke being the players to put the balls into Rooney and King. I also think Ridgewell may be left out for his transfer window shenanigans and Murphy (who hasn't looked too bad at all) given the left back berth.
I'm feeling really confident about tomorrow, so I'm going to go with a Blues 2-0 win, and hope I haven't jinxed things.
Tags: Guirane N'Daw, Marlon King, Millwall FC
6 Responses to "Enter the Lions – the Millwall preview"