Where Are They Now? Part IV
Instead of trying to find another angle to talk about Blues in what has to be one of the dullest international breaks ever, I thought now would be a good time to have another look back at former players and ask – where are they now? I thought I'd look at some of the foreign legion who graced St Andrews with their presence, albeit temporarily.
Martin Latka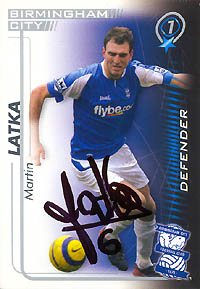 Back in January 2006, Birmingham City took a chance on an unknown Czech under-21 defender in their bid to stay in the Premiership. Latka was supposed to be hot stuff; an up and coming youngster who was on the verge of the full Czech side, and so Blues took the plunge and signed Martin on loan from Slavia Prague, giving him the recently departed Walter Pandiani's number.
Unfortunately, it didn't quite work out for Martin or for Blues; seven appearances later he departed these shores with Blues relegated and his reputation tarnished somewhat. It was only five years ago, but all I can remember of Latka was a penalty given away against West Ham (which Marlon Harewood managed to only put away on the rebound after seeing the original effort saved by Maik Taylor) because of an absolutely careless handball.
Martin returned to Slavia Prague after his ill fated loan spell with Blues, and after a couple of seasons moved on to Panionios in Greece (where ex-Blues player Njazi Kuqi is currently plying his trade) before once again returning home to Slavia at the start of this season.  He never made it into the Czech national side – like so many under 21 players he couldn't quite make the jump.
Rafael Schmitz
One of the small amount of Brazilians to play for Blues, Schmitz also shares the distinction with Latka of an on-loan centre back to play in a relegated Blues team. Taken on loan from Lille for the 07-08 season, Schmitz was touted as a tough-tackling centre back, and Bruce said at the time he'd been keeping an eye on the Brazilian for a while. With Schmitz getting a French passport just prior to his signing meaning work permit restrictions had been nullified, Blues took the plunge and made him the seventh signing of that pre-season.
Like Latka, Schmitz isn't a player who I can recall doing anything of note quickly. I suppose that is a good thing, because the truly awful players (Bjorn Otto Bragstad anyone?) I can remember easily, but I guess he was just one of those journeyman pros who never really stood out. Maybe I'm wrong, I'm sure you'll put me right in the comments.
After Blues got relegated, Schmitz went back to France, but moved on to Valenciennes who are also in Ligue 1. It doesn't seem he's a mainstay there either; despite having the number 5 shirt he's yet to play this season and 44 appearances in three seasons tells it's own story.
Gregory Vignal
Former Liverpool and Portsmouth full back signed for Blues for a season in 2009, having impressed on trial against Sporting Gijon at St Andrews. I remember being impressed by the Frenchman – he was a no-nonsense bloke who was a real tough tackler, much like his compatriot Franck Queudrue.
Greg only ended up making eight league appearances for the Blues though, with injury forcing him out of the team, and the fine form of stand-in full back Liam Ridgewell keeping him out of it. I guess it was a bit of a shame, but this was the season of the unbeatables and that run of fifteen matches firmly cemented Liam's position on the left side of defence.
Gregory moved on to Greek side Atromitos, but he never settled and four appearances and three appearances later, he left the club. Injury seems to have done for Vignal, who has been without a club since December 2010 and from a quick internet search doesn't seem to be any closer to finding one.
Three players with fairly decent reputations; two ended up relegated and one is now on the scrapheap. No wonder players think twice about signing for Blues.
Tags: Gregory Vignal, Martin Latka, Rafael Schmitz
5 Responses to "Where Are They Now? Part IV"