Delay No More
Banners protesting the continued ownership of the club by Carson Yeung and Birmingham International Holdings were displayed at St Andrew's today during the 3-3 draw with Derby County.
Two banners were prominently displayed during the match – one stating "Made in Birmingham – Destroyed in Hong Kong" and another put together by the Blues Trust and others with the "Delay No More" tagline on it.
I wrote this piece back in October to explain the double meaning behind the "Delay No More" and I'm pleased to see that the Blues Trust have picked up the idea and have organised a banner too. They have also created a website which hopefully will create a jumping off point to build on the momentum, to bring fans together and to finally get rid of the toxic cloud of apathy that has hung over the club for some time.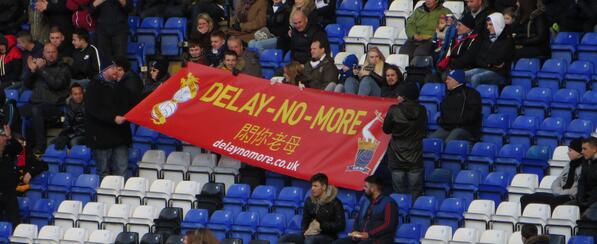 Both banners provided a very focal point for fans who are clearly disaffected by what has gone on at the club. Noise around the ground was loud and vociferous and my personal hope now is that other people having seen that protest can be positive and peaceful will add to it. It does worry me however that people have brought the nationality of Carson Yeung etc to into the chants and I cannot stress enough that we as a fanbase need to be above that – it's nothing to do with where Carson et al come from – it's only their actions that are being judged.
There is definite media interest in what was displayed with local media picking up on the story and I'm happy to say that interest has been replicated in Hong Kong. I have spent Saturday evening putting together a package of pictures and videos sent to me by Bluenoses for my contacts in the HK media so that they can then use them in their newspapers and websites – bringing the feelings of the fans to where it matters. With the EGM on Wednesday I think the timing is perfect to make the shareholders aware that it's in their best interest for BIH to sell up now.
For me, the next step is for us to fill the ground and get behind the team whilst continuing to demonstrate that we want the club to be sold. If the club is to be picked up a potential investor needs to know that the fans will back the team and that there is a good reason to buy the club from Carson – and it's important with such a young side we show them we're behind them on the pitch all the way.
Tags: Delay No More, Protest
146 Responses to "Delay No More"