Mrs Carson Yeung revealed – part 2
On Thursday, I wrote a brief post outlining an application made by the Hong Kong Attorney General to freeze the assets of Carson Yeung and his ex wife Li Yongshi (Li Wing Sze in Cantonese). As I did a piece on Carson's current significant other, I thought it only fair I looked into what I could find out about Ms Li.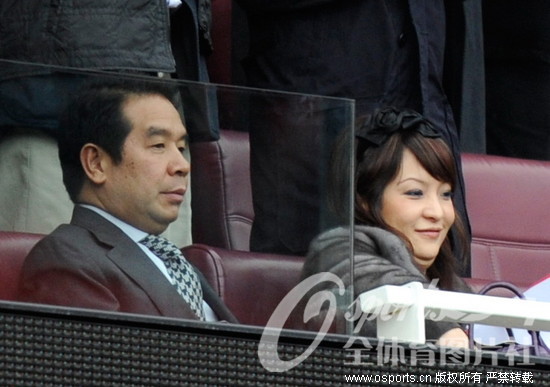 You might recognise Ms Li; she was the mysterious lady who accompanied Carson to his first Birmingham City game against Arsenal. I don't know for sure if he was married to her, but the papers are giving her name as his ex-wife and co-purchaser of his property in Ying Piu Mansion where he formerly lived.
She's an executive director of Amax Holdings Ltd, a Hong Kong Stock Exchange listed company which deals via it's Macau-based subsidiaries in gaming promotion and casinos. It operates in Macau and Hong Kong, as well as the PR China, US and South Korea. According to her corporate bio, she has over 10 years experience in the technology and administative management of the Macau gaming industry, and is mainly responsible for local gaming operational matters within the group.
As I discussed on this post, it's thought Carson made the bulk of his money via his investment in the "Greek Mythology" casino in Macau. The accusations of money laundering made against Carson relate to a period in 2001-2007, which is when he made his investment in Macau. Couple this with Ms Li's experience in Macau and the application made by the HK Attorney General to freeze both of their assets and you would have to think that this is all leading back to the gaming tables of Macau.
It's important to keep in mind that there has been no public announcement of any decision re the freezing of Carson's (or Ms Li's) assets as of yet, and that speculation with regards to this ongoing story is exactly that – speculation. All I can do on this blog is to try and find out more facts to build a more complete picture and to help keep misinformation to a minimum. It's something I'm continually working on, and as I find out more, I'll add to it.
Tags: Carson Yeung, Li Wing Sze